On the Training Day of LIPS and Lean Construction Congress, people from different countries gathered in sharing experiences from Integrated Project Delivery (IPD) projects in their countries. The introductions were from Finland by Jani Saarinen from Vison, Germany by Dr Shervin Haghsheno from Karlsruhe Institute for Technology, Estonia by Sulev Senkel from BrainTeam and Norway by Morten Aagaard from Marstrand. In addition to the introduction presentations, the workshop sparked interesting conversation around the topic. 
Finland: Jani Saarinen talked about three conditions that give a frame for an IPD project in Finland: early selection of designers and builders, common contractual structure with risk and benefit sharing, and a common development phase. The role of IPD and especially alliance projects in Finland has grown steadily ever since starting the first alliance projects in 2011. Now, in 2021, there has been approximately 100 Project Alliances and IPD projects in Finland. Below, in figure 1 is annual costs of alliance projects Finland.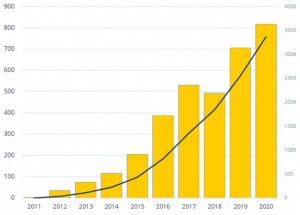 Table 1. Annual cost of alliance projects in Finland, annual total value of construction is approximately 35.000 – 37.000 million EUR (Vison Oy, 2021). 
In Germany, the development of IPD projects can be seen to have started in 2014, when the German Lean Construction Institute (GLCI) was founded. In 2016, the Initiative TeamBuilding, nowadays known as IPD Center, Competence Center for Integrated Project Delivery (IPA Zentrum), was founded. In 2020, the Federal Ministry of Construction started a research project about IPD. Dr Haghsheno briefly introduced IPD projects that have started in Germany since 2018 both from public and private clients and in building and infrastructure. 
In Estonia, the need for change in the construction industry has been recognized. Visiting Finnish alliance projects since 2014, educating and admitting the need to change have not yet resulted in starting the first IPD project. The Ministry of Economics and Communications' goal to start with the first IPD or Alliance pilot project in 2021 and the Estonian Digital Construction Cluster's goal of at least three IPD or Alliance projects in 2023 show a green light for the implementation of IPD models in Estonia. 
In Norway, half of the contractors' contracts are collaborative. Morten Aagaard says that the drivers for this extensive use of collaborative contracts are creating value and reducing conflicts. Interest for the collaborative contracts first came from the need to reduce conflicts, but now the driver is more to creating value. The most used model in Norway is design-build, but the trend is towards higher level of integration. Aagaard briefly introduced some projects where the model is in use, such as a hospital project, a school project, and the Life Science Center – University project.  
What are the lessons learned? 
In Finland, projects and alliances have reached their goals, budgets, and schedules. In addition, integration has made it possible to focus more on people, better leadership as well as challenging and educating professionals. Better value can also be achieved by getting the know-how from the key parties by working together from the development stage. 
Dr Haghsheno from Germany emphasized the importance of starting early and top-level management's commitment to IPD. In Germany, they have learned that investing in training and team development as well as integrating stakeholders early is needed. In Norway, because of the extensive use of collaborative contracts research, reports and guides have been published and standardization is also on the way. 
What has been challenging in IPD projects in different countries? 
Old cultural habits are seen as a challenging factor in all countries. Understanding that IPD is an alternative to the traditional way of construction challenges in Germany and Estonia. In Finland, Jani Saarinen sees that the lack of sufficient client's resources and using external alliance experts show that IPD project are still challenging. Dr Haghsheno from Germany and Morten Aagaard From Norway highlighted trust as a challenging aspect in their countries. Dr Haghsheno shared the challenge of accepting other parties into the project in the development phase for designers not to feel threatened by the contractors when they arrive to the project. 
 Text: Veera Muukkonen, Vison Oy